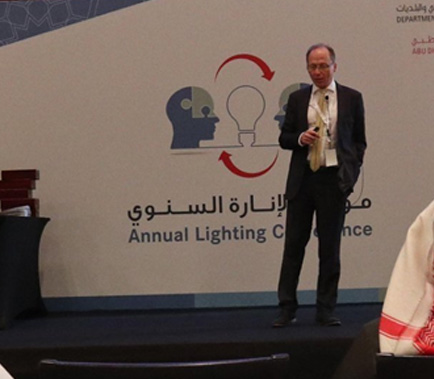 LIGHTING
Al Tayer Engineering along with our partner GE Tungsram participated at the Abu Dhabi City Municipality Lighting conference on 26th – 27Th November 2018 at Fairmont Bab Al Bahr, Abu Dhabi.
Mr. David Dunn, Project Manager & Lighting Expert of ADM presented updates on the lighting manual and Mr. Alaeddin Sammani of ADM discussed initiative to develop public lighting network.
Mr. Peter Schwarcz, Principal Engineer Tungsram Group delivered a scientific paper at Abu Dhabi Municipality Lighting Conference about considerations about the right specification of input voltage range of LED luminaires for street lighting and limits of LM-84 applied for professional streel lighting luminares. The paper attracted a wide interest from Municipal authorities and lighting industry.